What is Helix Personas?
Helix Personas is a powerful psychographic consumer segmentation and data integration tool that combines sophisticated psychographic, attitudinal and behavioural data to classify the Australian population into 54 unique Personas (or 'mindsets') that are grouped into 6 Communities.
Helix Personas provides brand advertisers, media agencies and media owners with deep insight into who their target audiences are, which marketing messages will resonate with them, where they're located and how to reach them across a variety of channels including digital, outdoor, mobile and letterbox.
The following slide demonstrates how Helix Personas typically enhances and deepens understanding about customers:

What are psychographics and why are they important?
Psychographics is the classification of people according to their attitudes, aspirations, values and other psychological criteria. This is completely different to demographics which cover information such as age, gender, income, marital status etc. A really simple way of understanding psychographics vs. demographics is to ask the question "are all 20-34 year old women the same"? Do they have the same values, opinions, ambitions, motivators, interests, drivers, tastes, lifestyle political persuasion and importantly the same buying behaviour?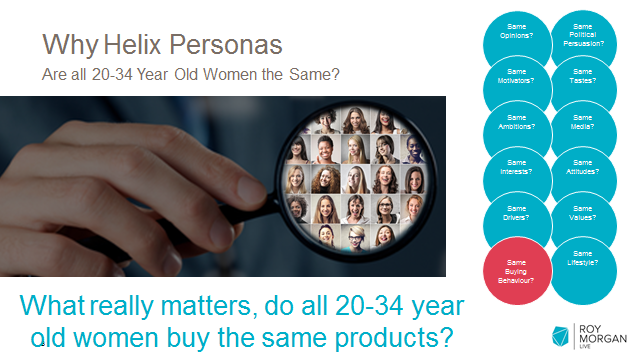 Of course the answer is no.
Psychographics are important as they explain 'why' a consumer buys whereas demographics explain 'who' the consumer is. Psychographics compliment demographic information to help brand advertisers understand more about their customers and potential market. Here is a simple example about luxury car buyers.
Demographics tell us that luxury car buyers tend to have high income and education levels and work in upper managerial positions. However demographics do not tell us why consumers buy luxury cars or, more importantly, which car brands they prefer. Psychographics reveal a deeper layer of insight – in this case that there are actually multiple Personas within this one demographic group that have different brand preferences and buy luxury cars for completely different reasons: for example, one Persona will buy a luxury car as a status symbol or based purely on its looks whilst another will buy because the car is environmentally friendly or has met their rigorous specifications after much research.
In this example Helix Personas highlights the difference in Personas by brand: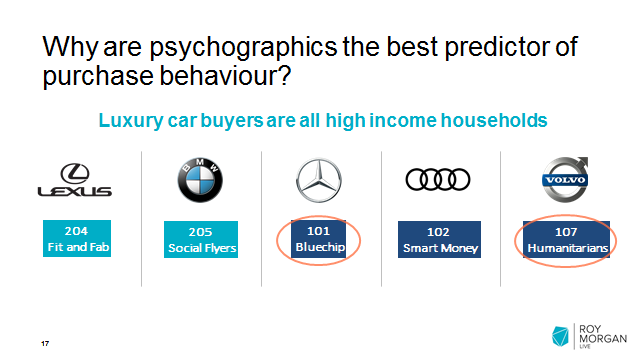 Using 101 Bluechip and 107 Humunatarians as an example, we see that despite being demographically the same, the brands they buy and the reasons for they purchase are different.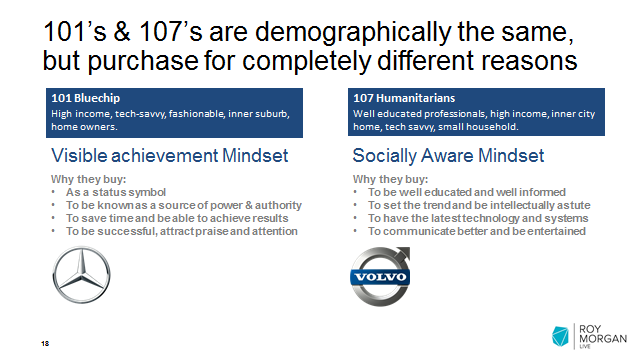 How can I use Helix Personas to find new customers?
There are THREE easy ways you can find new customers with Helix Personas.
The FIRST way is by using your own customer database coded with Helix Personas: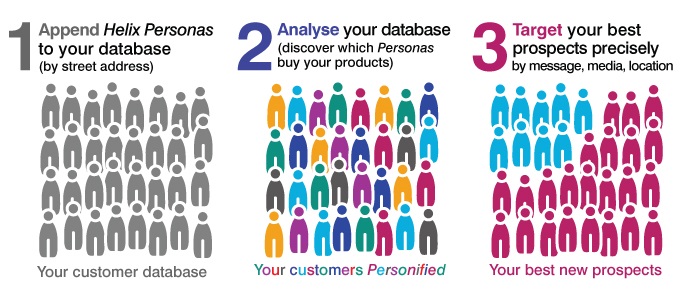 Because Roy Morgan has coded Helix Personas to every household in Australia, this means you can code every one of your customer records that has a street address (or even a less granular level of geography such as postcode) with Helix Personas and then analyse this information to find out more about your best customers or the customers you would like to acquire more of. For example, you may find that most of your highest value customers are Metrotechs. As a result you can use our Media Partner network to target a digital campaign to Metrotechs.
The SECOND way to find new customers – especially if you do not already have a customer database – is to use the data in the data tab on the Helix Personas website that comes with your subscription.
The Helix Personas website data tabs contain comprehensive information on consumer consumption across many industry sectors (for example finance, retail and technology) as well as data on activities and interests and purchase intentions. All of this data is broken down by Helix Personas so that it provides a clear picture of consumers who are interested in your product category and where to find them (down to a street block level or via our Media Partners).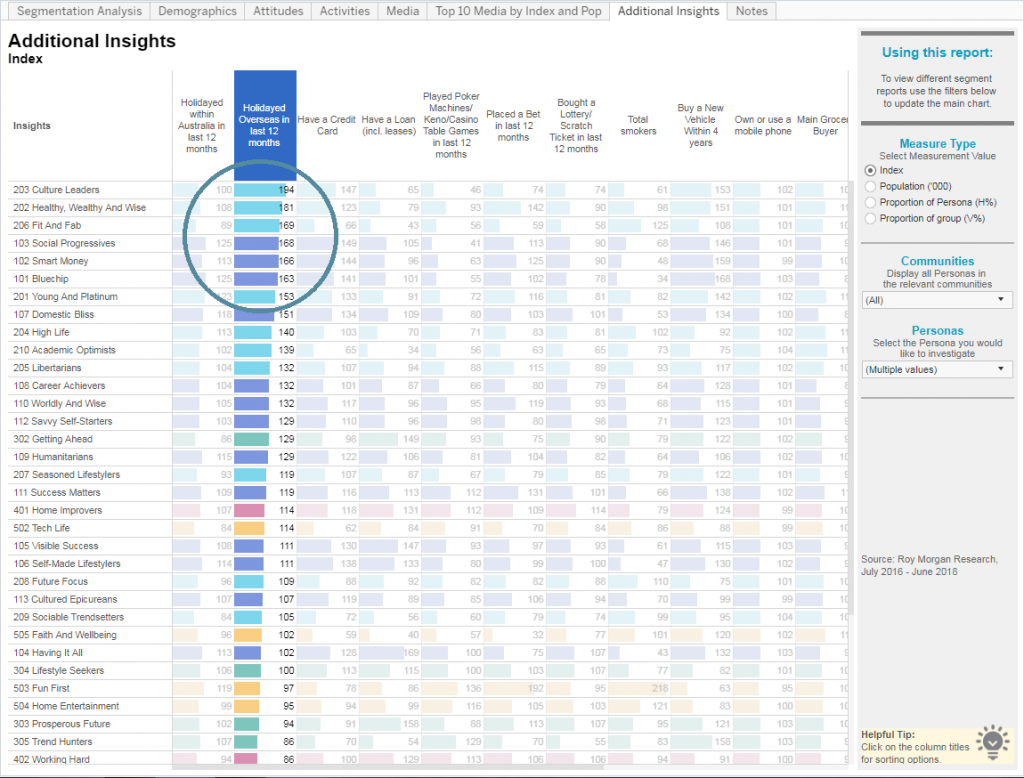 In the example above the data tab highlights the top Helix Personas who have holidayed overseas in the last 12 months.
The THIRD way is to place a Helix Personas pixel on your website or digital advertising (display or video) in order to build a profile of consumers coming to your website or viewing & clicking on your digital advertising. This is a fantastic way to quickly build a profile or your customers and prospects, especially if you do not have a customer database.
More information about the Helix Personas pixel can be found here.
How are the Communities and Personas different to each other?
Helix Personas that are alike – who exhibit a similar 'mindset' and psychographic profile – are grouped into Communities. In this way our 54 Helix Personas are grouped into 6 Helix Personas Communities.
How does Helix Personas coding work?
Helix Personas coding works in 3 easy steps: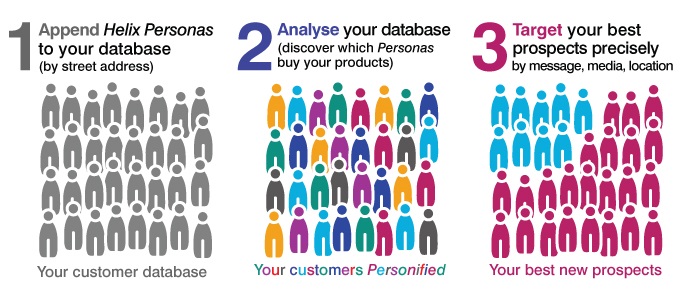 Firstly your customer database is tagged with a Helix Personas code. All that is needed is a unique identifier and a street address. This file is automatically coded by Roy Morgan and returned to the you with a summary report that profiles your customers.
Once returned, this Helix Personas coded file can be integrated into your CRM system. This allows for key data to be analysed by Helix Personas so that important groups of customers are identified. For example, a Helix Personas coded database allows you to understand which customers are:
profitable
spend the most
those with the most products
those that respond to offers
those that tend to churn
Now that your key Helix Personas are identified, the Helix Personas website can be used to find out more about each Helix Personas. Key data available online includes the following:
core values and beliefs
readiness to adopt new things
key demographics
attitudes & activities
media consumption, product ownership and buying intention
Finally you can create communications that resonate with them at a psychographic level and TARGET them with media they actually consume. New customers can be tagged to evaluate how a chosen strategy is working.
Can I integrate Helix Personas into my own existing customer segmentation?
Yes! Many of our clients already have a customer segmentation model. For these clients Helix Personas can add immediate value by providing a rich profile of the consumer beyond demographics and products purchased. This information helps you better communicate to your customer via messages and offers that resonate.
Most client segmentations are not actionable in the real world as Media Owners and Media Agencies are not able to translate them into a media plan or purchase acquisition lists that are based on the original segmentation. By tabulating your own customer segments against Helix Personas a business can use this information to easily operationalise their own customer segments and buy media.
What are the mapping capabilities of Helix Personas?
The Mapping capability of Helix Personas allows you to geographically locate your key Personas down to street block level. This has applications for understanding optimal store locations, local area marketing, outdoor advertising, unaddressed or addressed mail.
The Mapping application includes a simple to use catchment tool to profile an area, for example around a cinema. The catchment area tool allows you to pin-point a location and profile the radius from 1km – 20km by Helix Personas. The catchment tool provides a breakdown of the Helix Personas in the area as well as other key variables including:
average age
average personal income;
average household income;
generation breakdown;
number of people that fall into Roy Morgan's different Values Segments[1];
readiness to adopt profile of the catchment;
level of discretionary spend;
proportion in each socio-economic quintile;
household lifecycle;
a media usage summary and mail readership
additional insights from our Single Source survey.
Can I map my own customer data with the Helix Personas overlay?
Yes, the mapping tool has a premium feature which enables clients to upload and map their own data alongside Helix Personas and other Roy Morgan Single Source data.
How can I buy targeted media using Helix Personas?
Our network of media partners means you can buy Helix Personas (premium and programmatic) .For example, you can buy Helix Personas ad targeting on Facebook, Google, Nine Entertainment, Adobe, Eyeota etc. Brand owners and media agencies can utilise advertising targeting and acquisition initiatives through our diverse media partner network who have coded their inventory allowing you to buy Helix Personas direct, minimising wastage and maximising return on your media investment.
Can Helix Personas work with third party data partners?
In addition to our large range of media partners, Roy Morgan has licensed a number of 3rd party solution providers who can help you get the most from Helix Personas. These include companies like Sensis Data Solutions, Retail Oasis, Greater Data etc.
To view our solution providers click here.
Can Helix Personas be used by my media agencies?
Yes. All major media agency groups (and most smaller agencies as well) have access to Helix Personas.
How did you build Helix Personas?
Roy Morgan has decades of experience in understanding consumers and building predictive algorithms. Utilising a mix of unique and proprietary data sources, Helix Personas is built by a specialist data science team using a sophisticated statistical model, based on Roy Morgan Single Source in-depth personal interviews and the Australian Bureau of Statistics Census.
Importantly rather than simply using a 'big bucket' of data to drive the modelling, our data science team utilised tried and tested analytical frameworks which they knew were powerful and predictive to form the cornerstone of Helix Personas.
These include: The Roy Morgan Value Segments[1], consumer readiness to adopt new things, core values and attitudes, discretionary spending (not just income) and wealth.
The final Helix Personas are geo-projected using granular Australian Bureau of Statistics SA1 data to determine where they fit geographically across Australia. Finally the 6 Helix Personas Communities were formed by grouping together like Helix Personas.
Tell me more about the data sources
Helix Personas is built using data from every household in Australia from the Australian Bureau of Statics Census data, combined with Roy Morgan Single Source, which is based on 50,000 face-to-face, in-depth interviews conducted every year across a representative sample of the Australian population.
Roy Morgan Single Source data used includes values (psychographics), attitudes, interests, activities, wealth, transactions, purchase intentions and media consumption. The Single Source questionnaire includes questions across every vertical including lifestyle and attitudes, media consumption habits, brand and product usage, purchase intentions and retail visitation.
The provenance of Single Source data is fully transparent – Roy Morgan validates the identity of every Single Source survey respondent, ensuring unrivalled quality and accuracy. Roy Morgan continually monitors the performance of key statistics from our data against "real world" benchmarks or "census" based measures. Roy Morgan data is in-line with known metrics and it is this accuracy and reliability that is valued in the marketplace
All of the Single Source data is privacy compliant and stored in Australia. Please refer to our privacy policy for more information.
How does the geo-projection of Helix Personas work?
Roy Morgan uses data published by the Australian Bureau of Statistics in conjunction with the actual interviews undertaken by Roy Morgan in its Single Source survey to build a geo-projection model that is granular and can be validated.
How often is the data behind Helix Personas updated?
Roy Morgan Single Source data is updated monthly and Australian Bureau of Statistics Census data is updated every five years.
How is Helix Personas different to the Roy Morgan Values Segments?
There are 10 Roy Morgan Values Segments (see here for more information) compared to 54 Helix Personas. The Roy Morgan Values Segments are a critical component in the building of Helix Personas as they provide Helix Personas with the 6 key dimensions that drive consumer behaviour: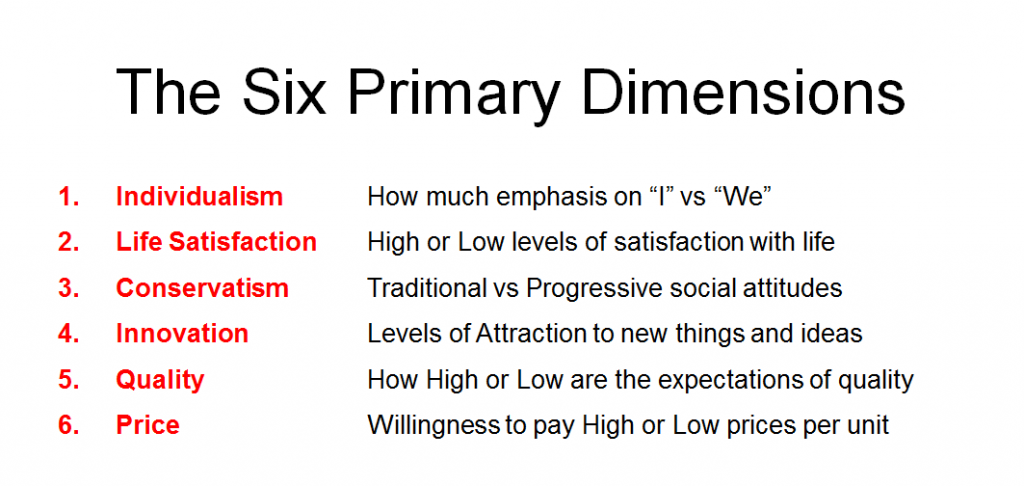 How do I buy Helix Personas?
Helix Personas is modular and has a simple, transparent pricing model. You can decide what data and functionality you require in order to build your own subscription. The key components you can select are:
Access to the Helix Personas website and data tabs
Access to mapping (GIS software)
Whether you want Helix Personas appended to a customer database or suitable data set
What support do I receive when I become a subscriber to Helix Personas?
All Helix Personas subscriptions come with access to our Help Line (1800 633 813). Additional support packages can be purchased as required.
Why did you create a new version of Helix Personas?
Helix Personas is the only consumer segmentation tool that is updated monthly with new data from Roy Morgan Single Source.
With the release of the latest Census data from the Australian Bureau of Statistics we took the opportunity to not only refresh the entire Helix Personas model but also take the segmentation down to a more granular level – in fact 7x more granular from a SA1 down to a meshblock (from about 200 households down to approximately 25 households).
How is this new version different from the previous version of Helix Personas?
Most importantly we have developed a more granular Helix Personas product which now is projected to a meshblock rather than a SA1 (a mesh block is a grouping of approximately 25 households whereas an SA1 is a grouping of about 200 households). Therefore it is 7x more granular.
At the same time the new Helix Personas has been updated to reflect some of the major shifts in the Australian population over the last few years. Please click here to read the whitepaper outlining the key changes in Australian society over the last 5 years and how they are reflected in the latest version of Helix Personas.
[1] Devised by Michele Levine of Roy Morgan Research and Colin Benjamin of the Horizons Network